The Navajo Nation deal with bomb-makers
September 19, 2018
A BOMB manufactured by Lockheed Martin recently killed 40 kids in Yemen. In total, 59 people died and 79 people were wounded. The bomb was sold under the permission of the U.S. State Department in an arms deal with Saudi Arabia. On July 24, the Navajo Nation President, Russell Begaye, met with Lockheed Martin to discuss a deal to increase job opportunities for the Diné people.
As a supporter of Indigenous self-determination, I agree that the Diné people should choose their own political and economic developments, but I cannot support the Navajo Nation as it attempts to enter into weapons manufacturing that will be used for imperialism and other settler-colonial projects. If a deal is settled, Diné people would be employed to manufacture aerospace defense industries. This would include aeronautics, missiles and fire control, and much more. The defense contractor is known to have clientele that includes the U.S. Department of Defense.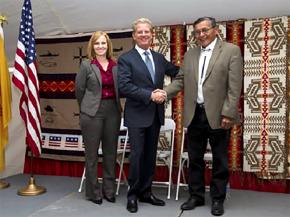 In a press release by the Office of Navajo Nation president and vice president, one individual stated that the methodical work of weaving to be perfect for manufacturing products for the contractor: "We have a diverse and skilled workforce with a long history of rug weaving, sand painting, and jewelry. These skills align with the focus on quality, attention to details and leaving no doubt in product assurance."
The products that Diné hands would be building would be instruments of war and imperialism. Lockheed Martin is one of the companies that benefits most from war, and in 2015, it had a total sale of $46.13 billion, with a profit of $3.61 billion. Seventy-eight percent of the company's sales in 2015 came from the Department of Defense. That same year, the federal budget for the U.S. showed that military spending was a whopping $598.5 billion, accounting for 40 percent of all military spending in the entire world. During April of this year, 19 Lockheed Martin and Raytheon missiles were used in Syria. After the Syrian air strike, Raytheon saw a boost in market value of $2.5 billion to demonstrate that war reaps mega-profits.
The Navajo president was happy, if not excited, to meet with the corporation despite the amount it makes on war profiteering, imperialism and settler colonialism. Economic development has always been a priority of the Navajo government, which includes job creation for the growing Diné proletariat. The Navajo Nation rate of unemployment is at 42 percent, and 43 percent of the Navajo Nation population lives below the poverty line. If you drive through parts of the nation you will see signs that advise Navajos to "vote for jobs" in the upcoming elections.
The Navajo government has always made it a priority to alleviate the poverty through job creation initiatives. Diné people are moving away from their traditional practices and ways of life due to settler colonialism. A wage economy is a necessary pillar of capitalism, and the Diné people were swept into it. And now Diné labor is commodified and exploited.
---
LOCKHEED MARTIN is not the only defense contractor that has come knocking on the Navajo Nation's door. Raytheon, the manufacturer of Israeli Iron Dome missile defense system, has a long history with the Navajo Nation beginning in the late 1980s. In 2007, Raytheon expanded their business to Navajo Agricultural Products Industry (NAPI) south of Farmington, New Mexico. NAPI is one of the main Navajo enterprises that were started with economic development in the reservation. Articles on the connection between Raytheon and Navajo Nation are hard to find, except for press releases praising the deal.
In December 2017, former Navajo President Ben Shelly praised the partnership with Raytheon as a form of economic development, particularly job increase, for Navajo people: "We work together to create jobs. The main thing is jobs to make our economy better, and that's what we are doing."
Later, in April, President Russell Begaye celebrated and commented on the warehouse and the partnership: "We as a nation, must diversify our economy and bring in other forms of jobs and revenue."
Raytheon specializes in missile weapons that will be used to expand the power and boundaries of the settler states and non-settler capitalist countries. It is no surprise that Ben Shelly also traveled to Israel despite it being a settler state that inflicts violence upon the Palestinian people.
The history of the Diné people and the transition only shows how a capitalist economy maintains hegemony and pulls Indigenous people into imperialist endeavors. A capitalist economy is a black hole that thrives on imperialism, and it pulls surrounding economies into its hold and practice. Since our forced transition into capitalism, Diné people have become reliant on wage economies. The comparison between the traditional work of Diné people and the manufacturing of products for imperialism is jarring. Diné labor is being mutated and coopted by the dominant economic system, a system foreign to Diné people, for war.
The Third Annual Native Liberation conference has come and passed. Many speakers from oppressed peoples around the world attended. International solidarity is needed now more than ever. The Diné people cannot be pulled into such violence against other peoples, especially children and civilians, around the world. Our economic development should not be at the detriment of others, so we must stand firm in resisting development tied to capitalism and imperialism.
The Diné people need to resist such pulls by seeking alternative economic systems that do not rely on imperialism and capitalistic structures by developing an economy that does not exploit Diné labor, land and water. It is now up to the Diné people to discuss, plan and implement an economic system that reflects the values of the Diné people. This means dismantling settler colonialism and any imperialist project that is initiated by it. It hinders any alternative system because it maintains its controls over Diné Bikeyah (Diné land), as well as other Indigenous peoples. K'é is not individualistic and the development of the Navajo Nation means solidarity with other oppressed people, and that means ending the war being manufactured in our own homelands to end the merciless killing of others elsewhere.
First published at The Red Nation.