Asheville stands up to ICE
April 18, 2018
Camille McCarthy reports on the emergency response to ICE raids that swept up and detained immigrants across the state of North Carolina.
ON APRIL 14, Companeros Inmigrantes de las Montanas en Accion (CIMA) in Asheville, North Carolina, was tipped off that plainclothes Immigration and Customs Enforcement (ICE) agents had detained people in Latino neighborhoods in Western North Carolina, including the Emma neighborhood of Asheville.
Upon confirming that people were being detained, CIMA sent out an urgent alert to its allies, asking for supporters of immigrant rights to gather for a press conference to be held that afternoon in front of the Federal building in downtown Asheville.
Even on such short notice, hundreds of people showed up ready to stand up against the kidnappings of their neighbors. Members of CIMA spoke, as well as the wife of a man who was detained. Her husband had been taken by ICE agents as he came out of his house to go to work.
"I just want my husband to come home," Helen told the crowd. "It's all because he was Mexican. It isn't fair."
Across the state, at least 40 people were detained by ICE in the raids. "People are intimidated and don't want to come out of their houses, not even to meet their daily needs," Bruno Hinojosa of CIMA told the Asheville Citizen-Times afterward, as he met with terrified immigrant families.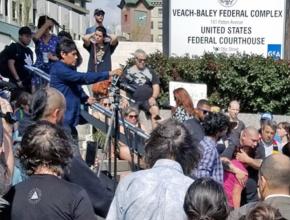 At the Saturday press conference, local government leaders, including City Council members and Buncombe County Commissioner Jasmine Beach-Ferrera, spoke to the crowd, restating that local police and county health agencies don't collaborate with ICE.
Local activist Carrie Plaxco said of the event, "I dropped everything...when I heard about the gathering taking place. I attended the rally because it's important to stand up together as a community and show solidarity. It's not enough to hear about these things happening in our neighborhood and think it's terrible, but not stand up."
---
CIMA URGED those gathered to be ready for further actions, to report any suspicious activity that fit descriptions of ICE agents or vehicles, and to be prepared to raise bond money, as each ICE detainee generally has a bond of between $12,000 and $20,000. A bag was passed around for donations.
"I thought the action was motivating," said Plaxco of the press conference. "It means a lot to have so many community members show up for the call to action without any notice. We have to keep the momentum going and keep working toward creating change; it's up to every one of us to take part."
The turnout for the press conference shows the importance of having a good response network in place before ICE strikes, so that when it does, the community can rally together and show up en masse. It also shows that in Asheville, people will stand up for their neighbors against these kidnappings.
CIMA representatives urged everyone to look out for their neighbors, as these raids are likely to continue in the days ahead.