Countering the fear-mongers in Chicago
December 8, 2015
Laura Snedeker reports from Chicago on a student rally against anti-refugee bigotry.
SOME 60 people gathered at the State of Illinois building in downtown Chicago to send a message of solidarity with Syrian refugees in the face of Gov. Bruce Rauner's announcement that the state would stop accepting refugees for an indefinite time.
Rauner joined several dozen governors, most of them Republicans, in using the shock at the November 13 terrorist attacks in Paris to justify further bigotry and hate against Muslims and Arabs. Syrian refugees are particular targets because police found a fake Syrian passport on the body of one of the attackers.
The rally was called by Students Organize for Syria (SOS), a student-led group with chapters on campuses around the country that builds solidarity with Syrians in their struggle for human rights and self-determination and raises awareness about the country's humanitarian crisis.
Mariam Saleh, a Palestinian-American student and one of the organizers of SOS at DePaul University in Chicago, told Socialist Worker that the "plight of Syrian people resonates deeply with us" because Palestinians know better than anyone about being driven from their homes by war and occupation, and turned away by other nations. "Syrians want to be here for the same reasons any American is here for," she said.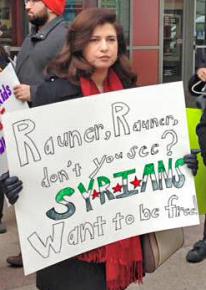 ---
DURING THE speakout portion of the rally, several activists with SOS and refugee aid groups spoke about the lack of response from wealthy countries to the exodus of people fleeing the devastation of the country's bitter civil war. Following the attacks in Paris, for which the Islamic State in Iraq and Syria took responsibility, several European countries have either turned away refugees at the border or refused to allow any more Syrians to enter the country following the attacks in Paris.
Madhi, the vice president of SOS at Loyola University in Chicago, compared this situation to how many countries shut their doors to Jewish refugees fleeing the Holocaust. Syria is an example of the "hollowness of the international community" in terms of its commitment to humanitarianism, Madhi said. "Silence was Hitler's greatest ally."
Lina Sergie Attar, one of the co-founders of the Karam Foundation, an organization that provides aid to Syrians within Syria and refugees in Turkey, said in an interview that what most Syrians really want is to be able to go back home--but that while the war continues, the U.S. has a responsibility to allow more Syrians to enter the country. The U.S. has only accepted about 2,000 refugees from Syria over the past five years.
"ISIS is not welcome in Syria," she said. "All of us must stand together in solidarity with the Syrian people and Syrian refugees." In fact, Syrians are fleeing atrocities committed by ISIS, as well as by regime of Bashar al-Assad, which is estimated to be responsible for more than 90 percent of all casualties.
Although organizers received some hostile and racist messages online, Saleh says they have received more support than opposition.
Jumana, a Syrian-American student at DePaul University and a participant in SOS, last year helped organize Syria Week of events last school year, including a talent show, bazaar, donations and a mock refugee tent--all done to encourage students to come out and discuss the situation in Syria. Students are planning to organize a similar series of events this school year.
The organization had its GoFundMe page shut down for a few days when site administrators accused it of raising funds for ISIS. Jumana described the response by governments around the world to the refugee crisis as "blaming the victim for being the abuser."
Students Organize for Syria is also working with Students for Justice in Palestine; Refugee One, a non-profit resettlement organization; and activists in various Black Lives Matter groups. Mariam Saleh quoted Martin Luther King Jr.: "Injustice anywhere is a threat to justice everywhere."
Hopefully, this modest but important demonstration can serve as a springboard for building larger protests that bring together a broad coalition of student and community organizations to send a strong message that anti-refugee fear-mongering and scapegoating aren't welcome in Chicago--or anywhere else.