and
Jobs and the planet: Is it really either/or?
September 18, 2014
With the People's Climate March coming to the streets of New York City, union activists Jean Parrey and Carole Ramsden look at some of the debates that need to be confronted about the relationship between labor and the struggle for climate justice.
WHO HAS the power to stop climate change?
Demonstrations like the People's Climate March in New York City on September 21 are important in showing the determined and growing opposition to a system that is driving the planet toward ecological devastation. But protests--while they can bring together and galvanize a growing movement--aren't enough by themselves.
One group in society with more potential leverage is workers in the energy and transportation industries, and those employed in sectors (like health care, for instance) directly impacted by climate change. Especially if they are members of unions, these workers can affect the operations of the fossil fuel industry by taking actions related to their work.
If this power were utilized, even if only partially, such actions could dramatically increase the pressure on the political and business establishment to do something to stop the carbon industry.
Yet organized labor has a notorious reputation for opposing measures to reduce greenhouse gas emissions and pollution. Union leaders insist these initiatives will cost union jobs--that it is a zero-sum game between jobs and the environment.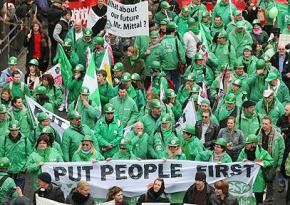 Therefore, the role of labor in the People's Climate March is a particularly important question.
---
THERE ARE many reasons to feel excited about the potential for greater working class participation in this demonstration.
First of all, it's in New York City, with its large working-class population and communities of color and immigrants still stinging from the effects of Superstorm Sandy less than two years ago.
New York is a city with over a million union members and numerous community-based organizations focused on highlighting local instances of environmental racism and pollution. When Sandy hit, it was union workers and grassroots organizations which responded, before, during and after the storm: caring for victims, coordinating relief efforts, pumping water out of subway tunnels and returning power to large sections of the Northeast.
So far, more than 70 different union locals and international bodies have endorsed the People's Climate March, including some of the largest unions in New York City--like the New York State Nurses Association, the health care workers union 1199SEIU, and AFSCME District Council 37 representing public-sector workers.
Some of the endorsers, the health care and transportation workers unions, have supported the climate justice movement for years. But significantly, there are some newcomers this time, including International Brotherhood of Electrical Workers (IBEW) Local 3, United Auto Workers Region 9A and Teamsters Joint Council 16.
At a July 30 press conference promoting the march, Chris Erikson, business manger for Local 3 of the IBEW--a building trades union that has traditionally taken a conservative position on environmental issues--issued a stirring call to arms for labor:
Sadly, there is no greater incentive than profit. No corporation has given anything without a fight. No union has made gains without a fight, and if this global crisis that effects all mankind is defined as an economic war with winners and losers, I stand ready with my brothers and sisters to march and to fight for worldwide energy democracy and to demand climate protection for the human race.
---
THE WEIGHT of labor organizations in the climate justice march is even more impressive given the lack of an endorsement from the AFL-CIO--not to mention the often vitriolic rhetoric from unions, leveled against the climate justice movement for opposing the Keystone XL project or advocating further regulation of the fossil fuel industry, on the grounds that this will cost jobs.
Richard Trumka, the AFL-CIO's current president, has tried to straddle a contradiction: between the need for the labor movement to connect with other progressive groups and recognize the growing danger of climate change, while at the same time remaining loyal to the more conservative unions that oppose ecological activism.
Back in early 2012, Trumka spoke powerfully at a UN summit on climate change:
[S]ome will ask, why should investors or working people focus on climate risk when we have so many economic problems across the world? The labor movement has a clear answer: Addressing climate risk is not a distraction from solving our economic problems. My friends, addressing climate risk means retooling our world--it means that every factory and power plant, every home and office, every rail line and highway, every vehicle, locomotive and plane, every school and hospital, must be modernized, upgraded, renovated or replaced with something cleaner, more efficient, less wasteful.

Taking on the threat of climate change means putting investment capital to work creating jobs. It means building a road to a healthier world and a healthier world economy--one less dependent on volatile energy prices, one where many more of us have the things that modern energy makes possible.
Contrast those words to Trumka's reaction earlier this year when the Environmental Protection Agency launched a much heralded, though ultimately anemic, initiative to transition a small percentage of electricity production away from coal. The AFL-CIO president, as well as leaders of the United Mine Workers (UMW) and IBEW, were critical of the new rules.
In a statement to the press, Trumka insisted on the need to "maintain the reliability of the nation's electrical system" by enhancing "fuel diversity and [making] continued significant investments in an all-of-the-above technology portfolio, including nuclear power and carbon capture and storage." Trumka went on to focus on jobs and pensions:
[T]he immediate focus for the labor movement will be what happens right here at home: Will our efforts to fight climate change be another excuse to beat down working Americans, or will we use this opportunity to lift employment standards, to create good jobs in places that need them, to make sure that the promise of a decent retirement after decades of dangerous, difficult work is honored?
Trumka is right to insist that measures to confront climate change must also take up the consequences for working people in an economy where Corporate America is determined to shed good union jobs. But he ultimately opposes greater regulations on corporate polluters in the name of defending those jobs.
IBEW President Edwin Hill argued the same point more directly with his statement opposing the EPA's new coal plant rules:
If these rules are implemented as written, dozens of coal plants will shut down and with no plans to replace them, tens of thousands of jobs will be lost and global carbon emissions will rise anyway...America needs an energy plan that balances the environment, the economy and jobs. But the EPA's poorly thought-out rule will do nothing but kill vital jobs and threaten the reliability of the electrical grid, hurting customers and businesses.
This is the zero-sum logic typical of the labor movement's traditional attitude on this issue: If the environment gains, then workers lose.
---
EARLIER THIS year, the AFL-CIO followed the lead of building trades unions like the Laborers in endorsing the Keystone XL pipeline project.
On a February conference call with reporters, Trumka endorsed both Keystone and new natural gas export terminals. There's no environmental reason that [the pipeline] can't be done safely while at the same time creating jobs," Trumka said. He later spoke in favor of increasing U.S. exports of natural gas: "Increasing the energy supply in the country is an important thing for us to be looking at."
At the heart of labor's attitude is the claim that building the Keystone and other energy projects will create new union jobs. Two years ago, the Laborers quit the BlueGreen Alliance--a coalition of 15 large unions and environmental groups, claiming a total of 16 million members--over Keystone XL, declaring: "We're repulsed by some of our supposed brothers and sisters lining up with job killers like the Sierra Club and the Natural Resource Defense Council to destroy the lives of working men and women."
When confronted with such inflammatory rhetoric, it's important, first of all, to look at the hard numbers about Keystone and job creation.
A study from the Cornell Global Labor Institute found that Keystone would create fewer than 5,000 construction jobs over two years. What's more, said Cornell researchers, even if the industry-funded study claiming the project would create 119,000 jobs were accurate--which it isn't--that inflated number still wouldn't change overall unemployment figures.
There is a pattern of inflating the jobs supposedly created by the energy industry's pet projects. For example, the U.S. Chamber of Commerce originally claimed natural gas fracking in Pennsylvania "created over 300,000 new jobs in the last two years" from 2010 to 2012. In reality, according to the Department of Labor, between the fourth quarter of 2008 and the fourth quarter of 2011, only 18,007 jobs were created in core natural gas industries, and 5,611 jobs in ancillary industries.
There is a jobs crisis in the U.S. today, especially a union jobs crisis. And it's also true that initiatives by federal regulators and the Obama administration in the fossil fuel industry don't provide sufficient resources for workers whose jobs will be affected.
This is precisely why these very unions should be articulating a comprehensive green jobs platform that federal officials can't ignore--instead of taking an oppositional stand toward regulation. By the same token, the climate justice movement needs to foreground the issue of green jobs--and insist that new regulations to curb emissions or otherwise protect the environment come with an accompanying jobs program.
---
THERE ARE certainly plenty of financial resources to put into green jobs programs. According to Climate Progress, U.S. taxpayers pay $502 billion each year to subsidize the highly profitable oil, gas and coal companies. The federal government spends another $120 billion a year on the damage this industry causes to people's health, agriculture and buildings.
The subsidies could be rescinded and used to redevelop the energy grid. The money could also be used to convert steel and auto factories so they can produce wind turbines, solar panels or light-rail public transportation systems.
The bottom line is that there are hundreds of billions of dollars in existing federal revenues that could be taken away from fossil fuel corporations and used to develop carbon-neutral energy and transportation, all manufactured by union labor.
Canadian labor leader David Coles, referencing a report from BlueGreen Canada, pointed out that "six to eight times more jobs could be created by investing [the Canadian government's federal subsidies] that currently go to oil and gas into energy efficiency, renewable energy, and public transit."
If there was a unified movement, with an energized organized labor at its core, to fight for these proposals, they would be entirely plausible--much more so than hoping that TransCanada or Peabody Coal stays in business for the next 30 years, and spending time, energy and union members' money to ensure that they do.
Both for controlling emissions and reducing the need for fossil fuels, there is a desperate need to rebuild crumbling infrastructure in the U.S. Several months ago, an explosion from a leak in a natural gas line leveled part of a city block in East Harlem several months ago--so perhaps our gas distribution infrastructure is a place to start.
According to the IBEW, upgrading aging gas pipelines could put more than 313,000 people to work over a 10-year period. Methane is now known to be a particularly dangerous greenhouse gas, "trapping 86 times more heat as carbon dioxide does over a 20-year period," according to one study.
The BlueGreen Alliance argues: "Repairing the system of distribution pipelines that deliver natural gas to homes...will help to fix a critical part of our aging infrastructure while creating jobs and cutting global warming pollution--a winning proposition for both the environment and the economy."
Overall, according to alliance researchers, this project could "prevent an additional 81 million metric tons of greenhouse gases from being emitted into the atmosphere, roughly equivalent to taking 17 million cars off the road for one year."
Getting unions involved in this movement is a high-stakes question if there is to be any hope of stopping climate change. Business and political leaders constantly point to the divisions in the labor movement as an excuse not to take action. If energy workers' unions are allied with the fossil fuel industry against climate change measures, the power of workers to fight for a just transition, mush less green jobs, will remain dormant.
There is reason for optimism as more unions shift their positions on environmental questions. An initiative to watch is Trade Unions for Energy Democracy, which has articulated a labor-oriented platform that proposes the incorporation of the energy sector into the public sphere--a recognition that there are no viable profit-based solutions to the question of climate change.
The group played a role in helping to recruit union sponsors for the People's Climate March. Its international affiliates include large unions in the energy sector, including South Africa's National Union of Mine Workers, the National Union of Metal Workers of South Africa, and Unifor in Canada, which represents Keystone XL workers.
Such initiatives show the potential for overcoming the either/or answer to the question of jobs and the environment.