Is Oklahoma the next stop for a teacher revolt?
March 30, 2018
Seattle educator Darrin Hoop looks at the backdrop to the school crisis in Oklahoma to explain how educators got to the verge of another walkout in a "right-to-work" state.
THE NEXT phase of the snowballing educators' rebellion in the U.S. looks like it's about to begin in Oklahoma.
Following on the heels of the strike victory of 20,000 educators in West Virginia, who won a 5 percent pay increase for themselves and all public workers in the state, some 150,000 teachers and public workers in Oklahoma are preparing to strike this coming Monday, April 2.
How long the strike will go on remains to be seen, but unions representing both educators and public employees say the walkout would continue beyond April 2 if their members want it to--and workers say they won't back down until the legislature meets their full demands.
On March 23, the Oklahoma Education Association (OEA), the biggest educators' union in the state, presented a plan to raise $905.7 million in revenue to fund education and provide teachers with a $10,000 raise over three years, with $6,000 coming in year one. Support professionals would receive a $5,000 pay increase with half of that in the first year.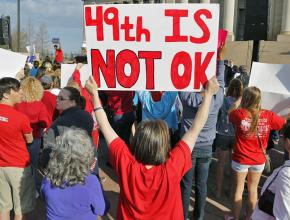 Other state employees are pressing for a $7,500 increase over three years, and the OEA proposal earmarks more than $300 million in revenue to restore funding for core state services, including education.
The adamant demands of these workers are the result of more than a decade of stagnant incomes, underfunding of schools and cuts to public services. Teachers haven't had a raise in 11 years, and it's been 12 years since the last across-the-board pay increase for state workers such as child support specialists, social service workers, bridge inspectors and others.
---
ON MARCH 26, in response to the strike threat, the Oklahoma House of Representatives passed a $447 million revenue package--less than half of what the OEA requested three days before--to address the demands of educators and public workers.
Media sources differ on the exact number, but the legislation would provide for an average teacher pay raise of between $5,000 and $6,000. The OEA's demand for another $4,000 in raises in years two and three was apparently left unaddressed.
The House bill would also give a pay increase to other state employees ranging from $750 to $2,000, depending on how much money they currently earn. This is far below the across-the-board $2,500 pay increase that the OEA and Oklahoma Public Employees Association (OPEA) put forward--and once again, there's no commitment to the $5,000 in salaries increases that the unions asked for in the coming years.
Two days later, the state Senate passed the bill, which would increases taxes on cigarettes, fuel, hotels, and oil and gas production to pay for the raises. Republican Gov. Mary Fallin signed the bill into law on Thursday.
This is an incredible turn of events in a "right-to-work" state where Republicans have controlled all branches of government since 2011--and where the legislature hasn't voted to increase taxes since 1992, due to a successful statewide ballot initiative that requires a three-quarters majority in both the state House and Senate to raise them.
These moves by the state government are clear proof of the power of a well-organized and -prepared strike plan by tens of thousands of workers. Educators and public workers in other states would do well to learn from what's happening in Oklahoma.
But now, the question is how the leaders of the OEA--and to a lesser extent, the smaller American Federation of Teachers (AFT)--will respond to this legislation?
AFT Local 2309, which represents 2,600 members in Oklahoma City, announced in a press release posted on its Facebook page:
While the Oklahoma City AFT accepts this package of pay raises, tax increases and education investment, we consider it a down payment. Families need much more to feel assured that schools can recruit and keep quality educators and that kids get the resources they need to succeed. The fight goes on, especially to pass the November referendum to raise the gross production tax on oil and gas to 7 percent. Educators will rally on April 2 to put the legislature on notice that the fight continues.
A members poll also posted on the Facebook page found that four in five teachers weren't satisfied with the House bill and supported a strike on April 2.
The OEA is the union with more pull since it represents around 12,000 educators. On the day the House bill passed, OEA President Alicia Priest was noncommittal about whether the walkout would last longer than one day. But after hearing from members, her tone changed.
In a video posted on the OEA Facebook page, Priest says: "The Oklahoma Education Association will be standing with our members as long as our members want to be at the Capitol pushing these issues." Priest went on to say that the legislature needs to fully fund classrooms, give full pay raises to cafeteria workers and bus drivers, and provide for the pay raises that educators have demanded in the following two years.
This statement seems to indicate the strike will continue beyond the first day--and that, as in West Virginia, the state Capitol in Oklahoma City will be the place to be.
The x-factor in all of this is the almost 30,000 educators who aren't members of any union in this "right-to-work" state--including some who have been a part of driving this struggle forward.
---
WHAT EXPLAINS the determination of Oklahoma educators and other public employees to continue fighting, even with the legislature dangling a pay increase that the media are calling "historic"?
Let's start with this fact: According to the Bureau of Labor Statistics, Oklahoma teachers have the lowest average salary in the country.
Teachers went on strike in 1990. They won raises, class-size reductions, the start of the state's prekindergarten program and a system that aimed to equalize the state aid contributions between "poor" and "rich" districts. As a result of the strike, over $7 billion in taxes were raised for education over the next 20 years.
But since the anti-tax referendum in 1992, no new taxes have been implemented since--and after the 2008-09 recession hit, funding nosedived.
According to the Center on Budget and Policy Priorities, since 2008, Oklahoma has cut per-student funding by over 28 percent, the biggest cut of any state in the nation. The next closest cuts, in Texas, totaled 16 percent.
One in five Oklahoma school districts, mostly in rural areas, have implemented a four-day school week--with each school day being longer so schools still meet the required instructional hours needed each year, the New York Times reported.
As with West Virginia, the significance of the Oklahoma uprising lies in the fact that Oklahoma is a "right-to-work" state: Collective bargaining and automatic union representation under a union contract are barred.
Less than one-third of public school teachers in the state are union. Moreover, this is why the OEA proposes legislation that must be passed into law in order to gain a raise for teachers--there is no union contract. (One consequence is that the OEA recommends revenue sources to pay for teacher raises, which unfortunately included regressive tax increases on alcohol, tobacco, gas and other items, in addition to more progressive sources of revenue.)
Yet despite what would appear to be an overall weak situation to go on the offensive, not only are teachers around the state preparing to strike, but another 100,000-plus state workers, represented by the OPEA, are also planning to walk out April 2.
OPEA leaders were also initially noncommittal about what would happen after April 2, but a March 28 statement on the union's website--titled "Lawmakers Revenue Plan Is Simply NOT Good Enough"--states:
The proposed pay raise, amounting to a 3 percent increase for the average state employee, is simply not good enough. State employees have weathered too many storms and endured too many years of staffing cuts, budget cuts, furloughs, higher health insurance costs and no pay raises to settle for such a small pay raise and no help for the support of agency operations or retirees. The plan put forward is a nice first step, but state employees and the citizens we serve NEED BETTER!
The statement calls for picketing and meeting with state legislators from 9 a.m. 3 p.m. on April 3 and "every day thereafter," as well as daily rallies at both 11 a.m. and 1:30 p.m.
---
THERE'S A backdrop to this struggle that should be inspiring to everyone who wants to see a revived labor movement.
The latest phase dates back to at least November 2017, when rank-and-file educators organized the Oklahoma Teachers United (OTU) Facebook group. The group initiated a series of coordinated teacher sickouts in Tulsa and in some rural schools. The success of these actions led to a growing number of parents, students and teachers looking to the OTU for leadership.
Next, students started organizing walkouts, with the support of parents and educators. These spread to almost 30 schools and counting. Then, as the West Virginia strike raged on in early March, OTU members began making plans for their own statewide walkout.
In an attempt to contain this upsurge from rank-and file teachers, the Tulsa Public Schools, with the support of the OEA, announced a three-point plan on March 5. As an OTU Facebook post described it:
1) Teachers will be encouraged to work only within their contract requirements (i.e. they do not have to come in early or stay late. 2) Schools will roll out a walkout in groups of 10. Those 10 will be encouraged to travel to OKC (Oklahoma City) to protest, then return to their schools so that another 10 can have time to protest. 3) In early May if the legislature doesn't pass legislation that the union presents, teachers will go on a full strike.
In response, the OTU pressed for tougher action. Teachers were encouraged to talk to their co-workers about striking at an earlier date. OTU leader Larry Cagle, an English teacher from Tulsa, held a press conference on March 5 with OEA President Priest to express his concern about the three-point plan.
By March 7, educators around the state overwhelmingly rejected the plan as too cautious, and the OEA announced the current strike date of April 2. Three days later, the OPEA decided to join the strike if its demands for increased pay and funding weren't met.
To prepare for the walkout, the OEA set up at least 12 different town hall meetings around the state in late March for educators to hold discussions.
Members of the OTU traveled the state to talk to educators in rural school districts, especially where the OEA has little influence or membership, to make sure they understand why the strike is important and get behind it.
OTU supporters have also begun a debate on their Facebook page about how to conduct a statewide strike when less than a third of educators are in the union. They rightly want to avoid a situation where the OEA attempts to speak on behalf of all 40,000-plus educators and end a strike without a democratic process.
---
AT THE same time that OTU members prepare for the strike, there are also ongoing discussions about what comes next.
After leading this struggle from below, OTU activists would be poised to organize a campaign to persuade the nearly 30,000 educators who aren't in the union to join it.
Then there are questions about the future of the OTU. Should it be formalized as a rank-and-file caucus? What demands should it make of union leaders and what proposals for reforming and democratizing union structures should be raised?
While it's impossible to know how the struggle in Oklahoma will turn out, it's clear that organizing for a strike is a crucial part of the ongoing revolt of educators in the U.S. and around the world.
After the successful West Virginia strike ended, educators in Jersey City, New Jersey, went on strike on March 16 before a new contract ended the walkout that weekend.
In Arizona, teachers held a "Teach-In at the Capitol" in Phoenix on March 28 that drew around 5,000 people as part of a continuing mobilization to fight for higher pay, better health insurance and smaller class sizes, and against school privatization. In Kentucky, teachers are mobilizing against pension cuts that would total over $4 billion, among other issues.
Internationally, more than 40,000 university workers took strike action at over 60 colleges and universities in the United Kingdom in February and March. And in the U.S. territory of Puerto Rico, teachers struck for a day on March 19 against plans by the government to open up the island's 1,100 public schools to be turned into charter schools.
Across the country and world, educators face similar issues due to years and decades of the underfunding of our schools. West Virginia educators showed the power of a united statewide strike. Now it's Oklahoma's turn.
We need stand in solidarity with the struggle of Oklahoma educators. The attacks on public education can be a rallying cry to say: Enough is enough! When we fight together, we can win!