Oscar has the right to stay
January 30, 2018
Oscar Canales has chosen to defy deportation orders and seek sanctuary in a Greensboro church--and a community is standing with him, writes Juan Miranda.
DOZENS OF ACTIVISTS and friends gathered at the Congregational United Church of Christ (CUCC) to stand with Oscar Canales, a 34-year-old husband, father and business owner facing deportation.
With the support of organizations such as the American Friends Service Committee (AFSC) and the Sanctuary Everywhere Coalition, local activists and members of CUCC, Oscar and his family were welcomed into sanctuary with a powerful and moving press conference.
Along with his wife and kids, the youngest of whom is just 2 months old, Oscar addressed the crowd, thanking them and encouraging those present to keep fighting to help his family stay together.
---
OSCAR'S STORY is unique, and yet familiar in ways that we have come to know all too well.
Born in El Salvador, he's the second of five children of struggling farmers. One of his brothers passed away when the family could not afford to see a doctor, and by age 13, Oscar was forced to leave school.
In 2005, at the age of 21, he began his journey across dangerous rivers and deserts, hoping to arrive on U.S. soil after hearing that he could get a work permit and, through hard work, be able to support his family.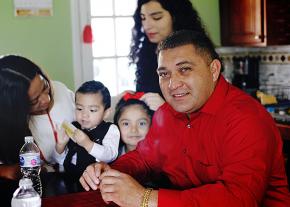 After being detained at the border for a few days, he was released and made his way to Greensboro, North Carolina, where he knew someone. He quickly learned the roofing trade and started building his own company.
One of his employees, Shawn Collins, could not hold his tears back as he described the impact that his "best friend" has made in his life:
He has taught me so much of what it means to be a man, and the importance of going to work every day, and that when you believe in something you fight for it. This man is not a criminal. What's being done to him is a crime.
Over the years, Oscar's family has spent over $14,000 seeking a path to citizenship for Oscar, with no success.
The arduous process became even more complicated in 2013 when he was arrested for driving without a license after a minor accident. He consequently spent six months in federal detention in Georgia until a successful stay-of-removal petition was filed by the family's attorney.
Oscar was released on the condition that he present himself every year in front of Immigration and Customs Enforcement (ICE) officers to renew his stay. He repeated this painful and anxiety-ridden process for four years until last October, when he was handed a final order of deportation.
Shirley, Oscar's 17-year-old step-daughter--who is graduating from Western Guilford High School this year--spoke of the difficult and heartbreaking decisions that she is being forced to make:
I wish to study graphic design or animation. I applied to [the University of North Carolina (UNC)]-Greensboro, UNC-Charlotte...On January 20, I was hoping to visit the Art Institute at their open house. After this happened to my father, I began to search for solutions to help him, and I learned that if I joined the National Guard, it might help him stay, so I applied to enlist last week...just in case it helps.
Following the press conference, many of those present accompanied family members as they delivered a petition to Rep. Ted Budd's office, asking him to introduce a private citizen bill that would allow Canales to remain in the country.
---
OSCAR IS now the third person to enter sanctuary in Greensboro and the sixth in North Carolina, the state with the most undocumented people seeking refuge in churches. He's part of an increasing number of people forced to make a drastic decision to self-seclude in houses of faith in the hopes of remaining with their families.
CUCC is the same church that hosted Minerva Cisneros, who, last October, won a stay of deportation and left the church to continue fighting for a legal status from home. Unfortunately, this hasn't been the case for most, such as Juana Luz Tobar Ortega, who became the first in a wave of immigrants taking sanctuary in North Carolina, and who, along with others, remains there while fighting deportation.
Sanctuary has once again become an important tool for immigrant rights activists fighting to keep families together. In most such cases, churches have agreed to act as sanctuaries, with their congregations opening their doors to those facing deportation and committing to protect immigrants by refusing to cooperate with ICE.
Such sanctuary churches have played an important role in the history of the immigrant rights movement, particularly in the 1980s, when religious communities and activists fought to provide safe havens for Central American refugees fleeing civil war.
It is powerful and inspiring to see entire congregations mobilize around these acts of resistance.
Unfortunately, there are also limits to the protection that such sanctuaries can offer in the absence of a mass immigrant rights movement, such as the one that involved the marches of many hundreds of thousands across the country in 2006.
With the undocumented under particular fire from the Trump administration, legal pathways to winning citizenship and even reprieves from deportation are severely limited. This lack of legal recourse makes the growing sanctuary movement more important and, simultaneously, more challenging as immigrants seek sanctuary with no particular end in sight.
Stories like those of Oscar, Juana and others seeking sanctuary must be amplified in order to help create the mass movement it will take to win meaningful reforms for all immigrants and their families. In the words of Laura Garduño García, an organizer with AFSC, "The price [Oscar] will pay to stay close to his family is his freedom."
---
FOR OSCAR and others, it's urgent that we build a broad-based movement to win dignity and freedom for all immigrants.
While electoral strategies cannot be dismissed wholesale, immigrant rights organizations will need to organize beyond lobbying, writing letters and voting for Democrats--who recently proved yet again their willingness to use immigrant rights as an easily surrendered bargaining chip.
As a recent SocialistWorker.org editorial put it:
These organizations need to be pressured to challenge the Democrats--and to call for wide-scale protests in defense of immigrants that put the voices of a diverse range of people front and center--even if that message contradicts the centrist aims of Democrats who hope to triumph in 2018 elections.
If activists want to build a resistance capable of not just defending, but expanding, the rights of immigrants, it also will be essential to push back against the narrative of "good" vs. "bad" immigrants, which opens the door to the criminalization and targeting of entire immigrant communities and allows ever more people to be harassed and persecuted.
This is particularly true for undocumented immigrants who are Black. Although only being 7 percent of the U.S. non-citizen population, they make up 20 percent of those facing deportation on criminal grounds.
In Oscar's case, he was detained because his name matched that of someone else who had a criminal record. While being cleared, it was this incident that put Oscar in ICE's sights nearly four years ago.
We need to organize in our schools, workplaces, and neighborhoods to build our collective capacity to defend our communities from the ongoing threat of deportation. At the same time, we need to mobilize the largest and broadest group of people to defend immigrants through mass protests and direct action. There is no better sanctuary than thousands of people in the streets. As Garduño-García put it:
Now more than ever, we need to step up to the call to protect one another. To engage in these calls to action is critical for the successful campaign to liberate Oscar and the other members of our community currently in sanctuary, and the countless more who are fighting silent battles against the imminent threat of deportation..."La lucha sigue"--the struggle continues--because our families are worth it. We are worth it. Our communities are worth it. We all deserve peace and dignity.