Editorial
#MeToo shakes the Washington elite
December 21, 2017
Sexism goes all the way to the top in the U.S., but women have gained confidence from the #MeToo moment to keep up the pressure and hold powerful men accountable.
THIS IS not over.
In one month, six members of Congress have been forced to resign over sexual assault allegations--and that list is likely to get much longer with reports that the Washington Post and CNN are working on investigations that could implicate anywhere from 20 to 40 more lawmakers.
The six include Democrats and Republicans alike--Sen. Al Franken and Reps. John Conyers, Ruben Kihuen, Joe Barton, Trent Franks and Blake Farenthold.
In Alabama, racist and sexist evangelical homophobe Roy Moore lost a special election for the Senate, in large part because of the public attention drawn to women's allegations against the Republican candidate.
And, of course, in the highest office of the land, Donald Trump stands accused--as women who he had sexually assaulted over the years are stepping forward to demand that Congress hear their cases.
The #MeToo campaign, spurred by women speaking out about being sexually assaulted and harassed by producer Harvey Weinstein, is reaching through the halls of government and exposing a system that silenced women, denied their stories and protected men in powerful positions.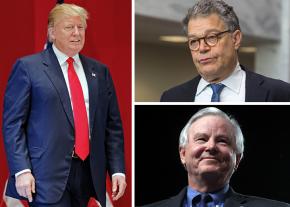 Until now.
---
AS WOMEN'S experiences of sexual assault and harassment in Congress were finally heard, a pattern became clear.
First, there's the complaint process that demands silence from the accuser in order to protect the accused. But in reality, sexism and discrimination are so much a part of the everyday work environment in Congress that it's surprising any women ever stepped forward.
But that's changing now--even for the women who the president of the United States calls "liars" for talking about how he abused them.
Some 20 women have stepped forward to tell their stories of being sexually assaulted by Trump. Many told their stories before the 2016 election, but they believe that now, with a brighter light being shone on women's experiences thanks to #MeToo, they might finally be heard.
Three of the women held a press conference on December 12 to call for a congressional investigation into Trump's actions. While they come from walks of life--a receptionist, a pageant contestant, and a woman who had the misfortune to sit beside Trump on an airplane--they have this much in common.
"They've investigated other Congress members so I think it only stands fair he be investigated as well," said Samantha Holvey, a former pageant contestant. "A non-partisan investigation is important not just for him, but for anybody that has allegations against them. This isn't a partisan issue, this is how women are treated every day."
Even U.S. Ambassador to the United Nations Nikki Haley added her voice, however hesitantly. She appeared on CBS's Face the Nation to say that "a cultural shift going on in America right now" and the women who have accused Trump "should be heard."
Meanwhile, New York Sen. Kirsten Gillibrand, one of six senators calling on Trump to step down, declared:
President Trump has committed assault, according to these women, and those are very credible allegations of misconduct and criminal activity, and he should be fully investigated and he should resign. These allegations are credible; they are numerous. I've heard these women's testimony, and many of them are heartbreaking."
Trump responded with a disgustingly sexist tweet that called Gillibrand a "lightweight" who "would come to my office 'begging' for campaign contributions not so long ago (and would do anything for them)."
Gillibrand called the tweet "a sexist smear attempting to silence my voice," and now, 59 members of the Democratic Women's Working Group in the House have called on the House Oversight and Government Reform Committee to begin an investigation into allegations of sexual misconduct by the president.
They point out that Trump's "own remarks appear to back up the allegations"--a reference to the recording, released during the election campaign last year, that caught Trump during the filming of an Access Hollywood segment in 2005 talking about grabbing women "by the pussy."
Some 100 House Democrats joined the call for a formal congressional investigation of sexual misconduct by the president.
---
THE #MeToo moment has revealed that justice typically came very slowly, if at all, in cases of sexual assault. But today, so many women standing up to be heard has forced the issue into the public spotlight and produced immediate results.
For many women, it's a welcome sign that the world is finally paying attention after years of inaction around sexual assault and harassment.
But there are plenty of critics in Washington.
A Politico headline from this month sounded more like a 1950s scandal sheet: "Paranoia grips Capitol Hill as harassment scandal spreads." The article manages to twist the attention finally being paid to sexual harassment and assault into a "sex panic," where lawmakers are living in fear of the next accusation:
The raft of accusations and departures is prompting uncomfortable conversations all over the Capitol.

Aides in one Democrat's office were summoned recently to a meeting organized by a fellow staffer and asked whether they'd ever heard of an accusation against their boss, according to a source in the room. Other press secretaries have asked their bosses about any personal skeletons, wanting to unearth possible sexual land mines before they detonate in the media.

The pervasive apprehension that's taken hold risks adversely affecting some women's careers. One Republican aide told Politico that she is advising members not to be alone with any women--whether they're female staffers or female reporters.
If lawmakers are worried about where the next accusation is coming from or whether they should be alone with a woman, this says more about a climate of sexist behavior that prevails in Washington than it does about any "paranoia gripping the Capitol."
Others have claimed that #MeToo phenomena has gone too far--and tried to shift the debate to highlight the repercussions suffered by the men who have been accused, as opposed to the women who are speaking out.
This attitude was exposed by writer Ijeoma Oluo, who told her story of being asked by USA Today to write a piece about the attention being paid to sexual assault.
To her surprise, Oluo learned that the editor wanted her to write about why she opposes due process for the men accused. As the representative explained, "They want a piece that says that you don't believe in due process and that if a few innocent men lose their jobs it's worth it to protect women."
The problem, Oluo said, is that she doesn't oppose due process. USA Today suddenly didn't want an article from her.
In the eyes of the editors of USA Today, if you're a feminist who supports women coming forward publicly to name the men who have assaulted them, then you are surely against due process--or maybe you don't understand the "danger" to men when women call out their abusers.
Of course there should be due process. But the point of #MeToo is that there has been no due process at all for women when it comes to having their stories heard.
This is all an attempt to flip the script and condemn one of the most powerful things about #MeToo--the sheer number of women who have bravely stepped forward to bring down powerful men who have been allowed to commit acts of abuse for decades.
---
WHEN SEVERAL women stepped forward with stories about Minnesota Sen. Al Franken sexually abusing them, there was a similar reaction among some of his supporters, who argued that his liberal record as a Democrat in the Senate outweighed the accusations against him.
Feminist and author Kate Harding argued in the Washington Post that she didn't support Franken's resignation in part because she knows he's not the only Democrat who could be accused of sexual assault, nor the only one--this was obviously her main concern--who could be replaced with a Republican.
Harding writes:
[I]f we set this precedent in the interest of demonstrating our party's solidarity with harassed and abused women, we're only going to drain the swamp of people who, however flawed, still regularly vote to protect women's rights and freedoms...

[I]n a sharply divided political climate where toxic masculinity knows no party, yet is only ever acknowledged by one, we must think about how to minimize harm to women. One more empty apology and resignation, one more head on a pike, will not make American women safer or better off.
What a commentary on how political principles are corrupted when the prime consideration becomes stopping the greater evil by defending a still-quite-evil lesser evil.
Then there are those politicians who are pretty open about the fact they would rather drop the whole thing and pretend it never happened. Like Doug Jones, the Democrat elected over the sexual predator Republican in Alabama in large part because of the impact of #MeToo.
Jones said of attempts to investigate Donald Trump on allegations of sexual assault: "Where I am on that right now is that those allegations were made before the election. And so people had an opportunity to judge before that election. I think we need to move on and not get distracted by those issues."
There damn well should be a "panic" in Washington. Perpetrators of sexual abuse who have been protected for decades should feel the heat about what they've done.
#MeToo is changing what has been considered an acceptable way for women to be treated, in the halls of Congress and far beyond, to workplaces around the country. We can't let them turn that around.
If women are going to see any justice, their stories have to be kept in the public eye--because it's obvious that Congress won't do anything unless they feel the pressure.