Survivors won't go back to the shadows
July 27, 2017
Susan Carroll examines efforts by Education Secretary Betsy DeVos to reverse the gains made by the anti-sexual violence movement--and how activists are responding.
IN SEPTEMBER 2014, after she was failed by the Columbia University adjudication process that found her rapist not guilty, Emma Sulkowicz began a school-year-long senior thesis, performance art and protest piece titled "Mattress Performance (Carry That Weight)".
They vowed to carry a 50-pound dorm mattress, identical to the one they were raped on, wherever they went on campus for as long as their assailant remained at the university. The piece won worldwide acclaim for bringing to light the struggle of survivors of sexual violence who feel that their universities have failed to provide them with any justice.
The support Sulkowicz received was both literal--with people joining her to help carry the mattress--and emotional in helping them handle the weight of the trauma and mistreatment that the mattress represented. But they also faced indifference from administrators and vicious sexism and retaliation from those claiming they were lying about the assault.
In April 2015, Sulkowicz's assailant Paul Nungesser filed a federal lawsuit against Columbia University one month prior to his and Sulkowicz's graduation. Nungesser claimed he was owed damages for the harm done to his reputation, "well-being and future prospects," and contended that Sulkowicz had filed a false complaint with the university and undertaken a bullying campaign against him.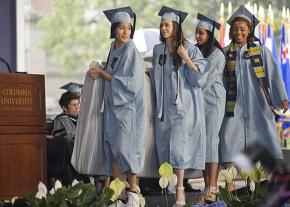 "By refusing to protect Paul Nungesser," the lawsuit reads, "Columbia University first became a silent bystander and then turned into an active supporter of a fellow student's harassment campaign by institutionalizing it and heralding it."
Sulkowicz, it's worth noting, did not release Nungesser's name to the press. The Columbia Spectator made a decision to publish it after Sulkowicz filed a police report and his name became part of public record.
Nungesser claimed to have faced discrimination because of Sulkowicz's senior thesis piece, and even alleged that the university violated Title IX of the Educational Amendments Act by allowing Sulkowicz to receive academic credit for their project, which the suit called an "outrageous display of harassment and defamation."
A court threw out Nungesser's case in March 2016 on the grounds that it did not fulfill Title IX qualifications. It was refiled and then dismissed again a year later. Another appeal was in the works when Columbia reached a settlement with Nungesser on July 10. The terms of the settlement have not been disclosed.
---
TITLE IX is a law, first approved in 1972 and then expanded in 1988, which dictates that no person in any education program or activity receiving federal funds in the U.S. (which covers almost all universities) can be discriminated against on the basis of sex, gender, gender identity or gender expression.
Columbia University is, in fact, under investigation for violating Title IX, but for the opposite reasons from those claimed by Nungesser. In 2014, 28 students filed a complaint against Columbia to the Department of Education's Office for Civil Rights for inadequately addressing reports of sexual assault and abuse.
Mishandling cases of sexual violence violates Title IX because it prevents equal access to educational opportunities for survivors, who face tremendous obstacles remaining at the same educational institution as their attackers.
Colleges are mandated to provide counseling, health services, academic accommodations, changes in housing and countless other resources that ensure a survivor's right to learn is not in jeopardy. Title IX complaints have been an important tool for the anti-sexual violence movement that has grown on campuses in recent years: there are currently 345 colleges under investigation.
It's beyond ironic to claim, as Nungesser's lawsuit does, that a protest against Columbia's routine mishandling of sexual violence cases puts the school in violation of Title IX.
Columbia's decision to settle with Nungesser is a blow to free speech because it implies that the university should have prevented Sulkowicz from walking around campus with a mattress and should have been denied college credit for a project based on a subjective determination of artistic expression.
In a recent statement, the university promised to "continue to review and update its policies toward ensuring that every student--accuser and accused, including those like [Nungesser] who are found not responsible--is treated respectfully and as a full member of the Columbia community."
The statement never mentioned the sustained attacks Sulkowicz received for their senior thesis project--from threats and hate mail, to large posters plastered all around campus and the surrounding neighborhood on the day of her graduation ceremony, with the words "Pretty Little Liar" printed above a photo of them and their mattress.
While Sulkowicz's powerful piece was explicitly and specifically directed at the failings of Columbia as an institution, the campaign against them was meant to shame them personally.
---
COLUMBIA'S SETTLEMENT is not only a dangerous precedent for survivors and their right to speak out, but also a slap in the face at a time when the administration of our very own pussy-grabber-in-chief is looking to undo all the reforms campus activists have won in the last decade.
One on the chopping block is the Dear Colleague Letter that laid out schools' responsibilities to treat sexual violence as a Title IX issue and mandated that schools use a "preponderance of evidence" rather than "clear and convincing" standard to evaluate allegations.
Following months of silence on the topic, on July 13, Education Secretary Betsy DeVos held separate 90-minute meetings with three groups--representatives of educational institutions, survivors of sexual violence, and students who have been supposedly falsely accused and disciplined--to discuss and evaluate Title IX protections in campus sexual violence cases.
The supposed falsely accused were represented by the National Coalition for Men (NCFM), Families Advocating for Campus Equality (FACE), and Stop Abusive and Violent Environments (SAVE)--organizations all known for their lobbying to roll back services for survivors, by blaming them for the violence they've faced and shifting the focus to the accused.
SAVE, for example, asserts that "female initiation of partner violence is the leading reason for the woman becoming a victim of subsequent injury," while NCFM has published the personal information of women--whom they call "false victims"--who have spoken out against their assailants.
It's terrifying that DeVos met with accused rapists and outright misogynistic groups and allotted them the same amount of time to weigh in on the subject as she did survivors, giving ground to the false notion that survivors and their perpetrators are on equal footing in the fight for justice.
Survivors' stories are full of egregious acts of negligence and hostility on the part of college administrators: choosing not to disclose important evidence during hearings; taking incomplete and factually incorrect notes; asking survivors about their past sexual history with their assailants, and how much they drank that night; and even institutionalizing survivors in psychiatric hospitals or forcing them on medical leave without appeal because their suicidal thoughts are more of a liability to the school than the accommodation of their rapists.
And even when student survivors manage to navigate their schools' skewed adjudication process and obtain a finding in their favor, sanctions for perpetrators are absurdly minimal. Some assailants are expelled after they graduate, others are given very short suspensions, and most are asked to do community service and write "reflection papers."
With all this in mind, it's a travesty to refer to the men's rights groups that DeVos met with, as many in the media do, as advocates of due process.
---
DEVOS' SEPARATE sessions with her "diverse group of stakeholders" also promotes a harmful narrative that false accusations are as prevalent as sexual violence itself--a narrative reinforced by Candice Jackson, DeVos' acting head of the Office for Civil Rights.
Jackson told the New York Times that "accusations--90 percent of them--fall into the category of 'we were both drunk, we broke up, and six months later I found myself under a Title IX investigation because she just decided that our last sleeping together was not quite right.'"
Jackson issued an apology hours before DeVos began her day of private meetings--which apparently will be sufficient for Jackson to remain at her job as the person in charge of investigating all complaints filed against universities for Title IX violations.
Beyond her shocking belittlement of the trauma of sexual assault, Jackson was also, statistically speaking, dead wrong. An estimated 2 to 10 percent of reported rapes are false reports, a rate that does not exceed the false reporting rates of other crimes.
But the organization Know Your IX points out that this number "also includes recants, which is when a survivor chooses (for a myriad of reasons, including the faulty criminal justice system) to recant and discontinue their report."
On the other hand, one in five women and one in 16 men will experience sexual assault during their college careers, and the rates are much higher for students of color, LGBTQ students and disabled students.
---
ACTIVISTS ARE determined to stop DeVos from tearing down survivors' hard-won protections. Dozens of activists gathered on the plaza outside the Department of Education's Washington, D.C., headquarters to read survivors' stories from across the country, while DeVos held her meeting with the accused students inside.
Survivor groups have flooded the Department of Education with meeting requests, while Know Your IX, End Rape on Campus, survivors and supporters have started and joined the #DearBetsy campaign with videos, petitions, open letters and op-eds.
This is a much needed and important start, and if we're serious about keeping our Title IX protections and other reforms, we're also going to need much more.
If the anti-sexual violence movement that has been growing on college campuses has taught us anything, it's that an unrelenting fight, waged with the stories of our struggles, has the power not only to open people's eyes to the ways in which the system we live under is not designed for our well-being, but also to pressure the institutions that have failed us to concede to our demands.
If they don't, we'll keep carrying that weight very publicly, everywhere we go--and we've got muscles they can't even fathom.