Why isn't OU taking action?
March 1, 2017
Ryan Powers reports on a rally against sexual harassment and assault at Ohio University--and asks why OU still hasn't fired a professor found guilty of misconduct.
MORE THAN 150 people rallied in Athens, Ohio, on February 24 to protest Ohio University's (OU) protection of Professor Andrew Escobedo, who was found guilty of sexual misconduct against multiple female students by an internal OU investigation.
Unfurling banners and holding signs that read "Stop Protecting Predatory Professors" and "Escobedo Must Go!," protesters demanded that OU not only fire the tenure-track professor, but take steps toward combating rape culture on campus.
After receiving at least six different complaints against Escobedo detailing accusations of sexual harassment and assault from as far back as 2003, the OU Office of Equity and Civil Rights Compliance found in December following an eight-month-long investigation that Escobedo was guilty of engaging "in a pattern of exploiting females who are subordinate to (him) by virtue of their student status or their junior employment status," reported student newspaper The New Political.
This included buying female graduate students "drinks at bars and then touch[ing] them without their consent," according to The Athens Post.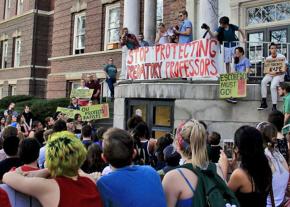 Four of the complaints were substantiated and declared violations of OU policy, while two were unsubstantiated--in one case because the person who filed the complaint would not identify herself "for fear of retaliation," reported the Post.
At least two of the complaints stemmed from an end-of-semester party. The Post detailed:
One woman said Escobedo put his hand down her pants to touch her buttocks and rubbed her vagina over her clothing. A witness said the student 'seemed petrified' that night.

The graduate student said she thought telling him no would impact her grade. She said Escobedo kissed her without her consent at the end of the night and rubbed an erection against her leg.

The other woman said Escobedo touched her vagina over her clothes at Jackie O's. Earlier that night, she had called him an "asshole," and he replied she should "be careful" because grades hadn't been submitted yet, according to the report.
In a letter to English department faculty in late January, Escobedo downplayed his actions, however, writing that he "should not have become so intoxicated while socializing with graduate students, and I should not have stayed out so late with them."
Although OU put Escobedo on paid administrative leave and banned him from campus, the professor remains an employee of OU as this article was written--and was, incredibly, promoted to full professor while on leave.
---
PROTESTERS RALLIED around a series of demands that included: the de-tenuring and firing of Escobedo through a transparent process; that OU "implement ongoing and continual consent training courses for all faculty and students"; "that all mandatory reporters be required to undergo training for the trauma-informed, victim-centered handling of disclosures"; that, in the future, sanctions around such cases should be independently determined by a neutral third-party investigator; and that OU become "a leader in eliminating rape culture on campuses" and "be outspoken on behalf of its students."
Hope Roberts said she attended the rally to support sexual violence survivors. "It's crucial for people to use our voices and skills to make the movement stronger."
Recently convinced of the need for protest, Roberts said her first protests were anti-Trump protests, including a recent airport disruption in Columbus, Ohio, to support those affected by Trump's illegal Muslim travel ban.
"I don't know why this guy is being protected," Roberts said of Escobedo. "I can't think of any reason why this would be acceptable."
At the rally, student Anika Holland detailed her own experience being sexually harassed her during her sophomore year by a fellow student who repeatedly asked her for sexual favors. She noted, "Being drunk is not an excuse to touch a person without their consent. Being drunk is not an excuse for abusing your power as a professor."
Explaining OU's lack of action against Escobedo, Bobby Walker, an International Socialist Organization member and co-organizer of the rally, said in a speech that OU has failed to take action because it's "against the university's profit interests to do so!"
Walker added:
To really engage with us and our demands, to really condemn predatory professors and support survivors would ultimately threaten the university's bottom line. Donors will pull out, parents may not send their children here, the university's institutional reputation will be hurt. As long as this university only continues to care about their bottom line and rich donors, they will never truly give a shit about us: the students, faculty and workers that run this university.
Demarius Rogers said he believes it is important for everyone, regardless of gender, to support the women's movement. "Like with Black Lives Matter, silence is not acceptable...Marginalized groups have similar causes, especially under Trump."
This protest happened within the context of recent struggles to make OU a sanctuary campus, including a recent protest in which 70 protesters were arrested and charged by police, an action the OU administration has defended. As one speaker at the ally noted, pointing out the police and their metal barricades, "We demand OU protect us rather than arrest us when we take a stand!"
In the age of an emboldened right wing and attacks on everyone from immigrants, women, people of color, LGBTQ people, the disabled and others, people from OU and beyond are drawing conclusions about the need for solidarity--and reviving the slogan that an injury to one is an injury to all.