Bridgeport says no to charters
March 31, 2014
Eric Maroney report on growing opposition to an education reformer in Connecticut.
EDUCATION "REFORMERS" have their eyes on Connecticut, but parents, teachers and community members are fighting back in Bridgeport.
At a public hearing in March on the proposal for a new charter school, Capital Prep Charter, more than 100 opponents packed the auditorium of Fairchild Wheeler High School. They wore red T-shirts with the words "Say No to Charter $chools" emblazoned on the front--and waved signs that read "Vote No to Dr. Perry, the Most Twisted Educator in America," a play on Steve Perry's self-anointed title as the "most trusted educator in America."
Perry, the principal of a magnet school in Hartford, has come under a lot of fire for his inflammatory rhetoric, tweets and disrespect towards educators, parents and students.
The Washington Post reported on Perry's vitriolic response to being denied a petition to privatize the Hartford magnet school where he serves as principal. "The only way to lose a fight is to stop fighting. All this did was piss me off. It's so on. Strap up, there will be head injuries," Perry wrote on his Twitter account after the charter proposal in Hartford was rejected.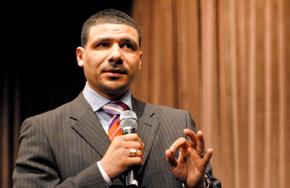 Perry comes from the same camp as Michelle Rhee--taking pride in a naked aggression toward unions or anyone else who stands in opposition to him. He is not shy about his controversial vision for public schools and has expressed open distain for parents, students and educators alike.
In his book, Raggedy Schools, Perry writes, "Enough is a damn 'nuf...Drag sorry principals and teachers out into the street. Kick open the doors in communities and collar lazy parents. Line 'em all up on Main Street, snatch their pants down and show the entire world the ass they have given our kids to kiss."
Local writer Jonathon Pelto has chronicled Perry's obscene comments in his blog Wait, What?. At the hearing, opponents of the proposed charter school cited Perry's disrespect as one reason he or any charter aren't welcome in Bridgeport. Lawyer and community activist Carmen Lopez testified against the charter, citing the local board of education's recent passage of a moratorium on charters, and asked the state to respect the autonomy of the city.
---
IN THE past two years, Bridgeport activists have helped pressure corporate reformer Paul Vallas into leaving his position as superintendent, beat back a proposal for a charter Montessori school, defeated an illegal state takeover of the local board of education and won progressive-labor-friendly members to the board in a special election.
A strong campaign carried out by the Working Families Party, the Bridgeport Education Association (the local National Education Association affiliate) and a coalition of parents and community members continue the struggle in opposition to privatization. Bridgeport is one of the most underfunded districts in Connecticut, but also has the most charters (four out of 18).
While supporters of Perry's charter school bragged over the numbers of students on the waiting lists to enroll in charters, opponents demanded equitable funding and excellent schools for all students, not just some.
Dolores Mason, head of the Bridgeport Parent Center, said she was at the hearing in support Bridgeport's public schools. "Bridgeport is already a cash strapped district," Mason stated, explaining how additional charters will be a further drain on an already underfunded system.
Howard Gardner, a Bridgeport Board of Education member, expressed frustration with the charter schools and the underfunding of the public school system. "We want every dollar and we want it now," he said as he took to the podium amid tumultuous applause and chants of "Hell no, charters have got to go!"
Several other speakers addressed the charter school parent supporters, making the case that we need to use our energy not against one other but to demand excellent and well-supported schools for all kids. Speakers also highlighted that privatization schemes are being brought to Bridgeport, a working-class city of color, and not the more affluent suburbs surrounding it.
Whatever the outcome of this round of charter proposals, it's evident that Bridgeport activists will have to continue the fight to defend public schools. The reform battle in Bridgeport is an important one--taking place just 30 miles south of New Haven, which made national news for the local American Federation of Teachers affiliate's support of tying teacher evaluations and pay to student performance.
Bridgeport demonstrates the power a strong coalition of forces can have in protecting against the corporate takeover of our schools.