Meet John Boehner, corporate bag man
November 19, 2010
JOHN BOEHNER is tired of business as usual in Washington. He should be--he's been at it a long time.
"Across the country right now, we are witnessing a repudiation of Washington, a repudiation of big government...and a repudiation of politicians who refuse to listen to the people," the Ohio Republican who is slated to replace Nancy Pelosi as House speaker, told supporters on Election Night.
Despite his tear-filled speech to the crowd chanting "U.S.A." at Washington's Grand Hyatt Ballroom, this is hardly the tale of some "outsider" taking the Beltway by storm, nor is it the first time Boehner has tried to make this claim.
Boehner--who is easily one of the most successful Republican fundraisers in the business--has been a political fixture in Washington for decades.
Boehner had already served in Congress for four years, and in the Ohio legislature six years before that, when he joined "outsiders" Newt Gingrich and Dick Armey in their so-called "Republican Revolution," which swept congressional Democrats out of power in 1994.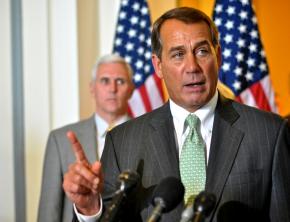 With the mantra of cutting "big government" down to size, Boehner helped craft the "Contract with America," mean-spirited legislation that aimed to cut programs like welfare to poor families, while promoting the idea that poor people need to start taking "personal responsibility" for their poverty.
Boehner backed strict time limits on welfare, raising work requirements for recipients and funding for "marriage promotion," abstinence education and "responsible fatherhood."
Meanwhile, the Contract on America let the actual welfare cheats off scot-free--namely the wealthy who would get huge tax breaks and corporations who were promised free-market deregulation.
---
"SIMPLE, HOMESPUN" Boehner himself became famous for his own lavish lifestyle, including acquiring a taste for fine wines, exclusive golf clubs and expensive international junkets with fellow members of Congress.
Last year, Boehner lead a delegation of congressional Republicans, and their wives, around the world to Ireland, Switzerland, Ukraine, Kazakhstan, Mongolia, China and Canada.
According to an itinerary obtained by Foreign Policy, the purpose of the Republican fieldtrip: "To discuss issues of mutual interest with government and private-sector officials on issues related to global and regional economic performance and energy security." (Translation: Party! Schmooze! Repeat!)
And while it's all golf courses and country clubs for Boehner, it's slice and dice for the rest of us.
He's a longtime opponent of that dreaded left-wing institution, the National Endowment for the Arts. Boehner recently said of National Public Radio, "Washington is borrowing 37 cents of every dollar it spends from our kids and grandkids. Given that, I think it's reasonable to ask why Congress is spending taxpayers' money to support a left-wing radio network--and in the wake of Juan Williams' firing, it's clearer than ever that's what NPR is."
This everyman who's standing up for the little guy also favors cuts to Social Security, including a scheme to raise the retirement age to 70.
In 1995, Boehner called the Occupation Safety and Health Administration, the government agency charged with protecting workers from injuries and illness on the job, the "Gestapo of the Federal Government." He has opposed increases to the minimum wage, arguing that it destroys jobs--a claim that is patently false.
And forget about your rights if you're a woman. Boehner is staunchly anti-choice, and has voted in favor of every restriction on abortion. One of Boehner's many criticisms of the recent health care reform legislation was a provision that might have allowed states to expand coverage for family planning services--including contraception--under Medicaid. The Democrats quickly got rid of the language.
As chair of the House Education and the Workforce Committee from 2001 to 2006, Boehner was key to getting the Bush administration's 2002 No Child Left Behind Act passed, with its emphasis on strict testing and punishing "failing" schools.
---
BUT "OUTSIDER" Boehner is probably best known for his amazing fund-raising abilities. In preparation for the mid-term elections, he worked every fundraising dinner, golf outing and cocktail party to rake in money for the Republican Party.
According to the Federal Election Commission, his "Boehner for Speaker" PAC collected $1.9 million just between July 1 and September 30, much of it coming from the mining industry, the financial sector and electric utilities. Boehner took in an addition $2.3 million through his own re-election committee.
Boehner raised a whopping $44 million for Republican candidates and the party for the November elections.
If Boehner is a great fundraiser, it's because he has practice. A lot. Early in his career, he organized a weekly get-together on Capitol Hill nicknamed the "Thursday Group," in which conservative leaders and corporate lobbyists met to discuss what to prioritize on the legislative agenda.
In 1995, Boehner handed out checks from the political action committee of tobacco company Brown and Williamson--on the floor of the House of Representatives.
Boehner's chief of staff, Barry Jackson, tried to explain away the incident, telling the Associated Press, "We were trying to help guys who needed to get their June 30 numbers up, their cash-on-hand numbers up. All leadership does this. We have to raise money for people and help them raise money."
Boehner's response was a little more sheepish: "I thought, 'Yeah, I can imagine why somebody would be upset. It sure doesn't look good.' It's not an excuse, but the floor is the only place you get to see your colleagues. It was a matter of convenience. You make a mistake, admit it and go on. I just feel bad about it."
Boehner learned his lesson, and now he's just a little less bald-faced about getting his bagman job done. Just a little.
So even though the Thursday Group has officially disbanded, Boehner still meets regularly with his lobbyist buddies. According to a recent report by the New York Times, this tight-knit group includes Mark Isakowitz, whose firm represents more than three dozen financial, telecommunications, energy and consumer products companies, including Coca-Cola; Bruce Gates, a lobbyist for cigarette maker Altria; John Fish, a lobbyist for R.J. Reynolds, which makes Camel cigarettes; Nicholas E. Calio, a Citigroup lobbyist; and two former aides, Marc Lampkin and Sam Geduldig, both now financial services lobbyists.
"His clique of friends and current and former staff members even has a nickname on Capitol Hill, Boehner Land," reported the Times. "The members of this inner circle said their association with Mr. Boehner translates into open access to him and his staff."
"He likes to bring similarly minded people together to try to advance legislation or oppose it," Drew Maloney, a lobbyist at Ogilvy Government Relations, told the New York Times. "That is how you get things done."
Boehner has such a convincing get-it-done kind of image that his "Leadership PAC" called "Freedom Project" even pulled out donations from WellCare during the last election cycle. The health care company stopped making political contributions in the fall of 2007, when it was publicly exposed for defrauding Medicaid and Medicare and the Justice Department raided its headquarters.
But never fear, Boehner, always the savvy fundraiser, coaxed WellCare back into the political contributions game this year.
But WellCare is just a tiny drop in the sea of donations Boehner takes in from the health insurance industry, which is ranked number one in the top industries that donated to his campaign. The insurance industry bought Boehner's ear to the tune of almost a quarter of million dollars in 2009-10, according to the Center for Responsive Politics.
So when Boehner said he's going to repeal "Obamacare" and enact "commonsense" health care policies, you can bet your life the CEOs in the health insurance industry were clinking their glasses.
The fact that Boehner can try to pass himself off as some kind of working-class hero shows just how out of touch the Washington establishment is with the rest of the country.
Even in a city where corruption and peddling political influence is the status quo, John Boehner gives Washington a bad, bad name.